Tutorial: Buy a Barcode
By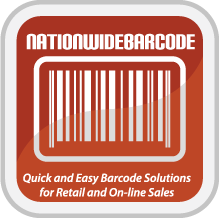 Retailers require barcodes because UPC Barcodes are used to convey prices to the electronic cash registers in stores and are also used to help manage inventory.  By managing inventory, the retailer knows when to reorder products that have reached reorder points. You will need a barcode for each product or variation of product that you sell. If you are selling an item that comes in a variety of styles, sizes and colors, you will need one for each variation. Each of these items is a SKU (Stock Keeping Unit). Each SKU is tracked individually so each item needs it's own barcode for tracking. UPC barcodes are used in the United States and Canada – these are 12-digit barcodes. EAN barcodes are used elsewhere – these are 13 digit barcodes. All Products, Food, Beverages, Clothing, CDs, Car Parts, Hardware, Tools, Nutraceuticals, all use the same version of barcode. . If you are selling worldwide, here is a good article about how to combine EAN and UPC barcodes.
There are two ways that you can get a UPC barcode.
You go  to  the GS1
You come to Nationwide Barcode.
Here is an article about the differences between GS1 and Nationwide Barcode.
Here is how it works:
We own a large number of prefixes. These prefixes belong to us and each one allows us to generate 100,000 UPC and EAN barcodes. Although these prefixes may be under other trade names that are under our care and control, the barcodes that we sell have never been used. We guarantee that these numbers are pristine….not duplicated or previously used. We are selling you a subset of the UPCs and EANs that we own…99% of retailers  do not require that you have your own prefix. They simply take the barcode number along with your product info and enter it into their inventory system that connects to their Electronic Point of Sales systems.
Three Very Important Things!
We are Better Business Bureau Accredited. This means that we have proven to them that we are an ethically based business (with no unresolved complaints).
We have been deemed "one of the legitimate guys" by George Laurer – the inventor of the UPC Barcode. He co-manages the Authenticated UPC Directory website and we provide him with all of our contractual information showing that we are legitimate.
We are Trustwave certified – this indicates that we have a secure site that means a strict level of internet compliance.
If you are planning on selling to Walmart/Sam's Club, J.C. Penney's. Kroger's, Macy's or other stores that tie the barcode prefix into EDI (Electronic Data Interchange) you will need to get your barcodes directly from the GS1. Once you place your order for your Barcodes, you will be directed to a page where you can download your barcodes. You either include the barcode graphic as part of your packaging design or (if it's already done) get barcode labels. We'll get you great prices from our friends at Pacific Barcode. They are fast, too. You are now ready for business and can start selling your products to stores  We have sold barcodes to clients who in turn sell on Amazon, to Lowes, Staples, Whole Foods, Trader Joes, Office Max, Target and thousands of other stores. Click here to see a partial list of our clients or click here to read some recommendations. Amazon is no different than any other retailer. You have products to sell that you have either purchased or manufactured and if they don't have UPC or EAN barcodes, you need to obtain barcodes in order to list your items. Click here for more information about Barcodes for Amazon. There is no formal EAN or UPC database of products either nationwide or worldwide. You supply the stores with a list of your products, product details and the UPC/EAN number for each item.
How Barcodes Work:
There is nothing embedded in a UPC or EAN barcode except for the numbers that are beneath the barcode. When they enter the info into their database, the numbers are associated with your product. When a barcode scanner scans the barcode, it turns the bars back into numbers and looks for the item associated with it.
There are a number of ways that you can communicate this information to the retailers, your retailer will let you know how they want the information. Sometimes they will ask for a printed sheet with a list of your items, sometimes they will want an excel spreadsheet that they can upload to their database. This all depends on the number of items and their level of technical requirements.
The information that you have supplied gets entered into the computer that connects all of their POS systems (electronic cash registers). All of this is done at store level because there is no accurate and complete database of products, and if there was, it could potentially carry billions of items. That's too much data for local stores to access, so, all stores only concern themselves with their inventory.
Your products are delivered to the retailer and once received into inventory and are now available for purchase.
Sometimes your retailers will ask you to add an additional barcode to the outside carton. They will refer to this as a Shipping Container Barcode or a GTIN-14. We can provide those too.
A customer picks up the item to be purchased and heads to the checkstand.
The item is scanned and the point of sale system (cash register) requests information about  the product from the database. Once purchased, the Point of Sales system tells the database to subtract the number of items purchased.
The customer pays for the item and the transaction is complete.

What We Provide:
Barcodes are good for all products except Books (require ISBN) and Pharmaceuticals.
Unique EAN and UPC Barcode Numbers always – never reused or recycled.  (UPC are used in US/Canada and can be read worldwide — EAN are used in Europe, Australia, Asia, South America)
Lightning Fast Digital Delivery. Barcodes within Minutes.
No Annual Fees, No Hidden Charges – barcodes never expire.
Free phone or email support – Access to our 'after the sale videos' and our 4-minute mentor video series.
Excel spreadsheet with all of your barcode numbers
EAN-13 and UPC-A graphics - EPS (scalable vector) and 600 dpi JPG. Barcodes are provided at 1.5″ x 1.0″ (38.27mm x 20.3mm) and can be scaled +/-20%.
Certificate of Authenticity/Transfer of Ownership
Our very comprehensive Resource and Support Guide.
FREE eBook: Barcodes Demystified - Info on Shipping Container Barcodes, Coupon Codes, Barcode Colors and Sizes. How to communicate with your retailers, etc
Additional after the sale solutions including shipping container barcodes, QR Codes and free webinars.
Free Subscription to UPCBarcode.com where can list your products and have them indexed by Google/Bing and included by select Smart Phone Barcode scanning applications.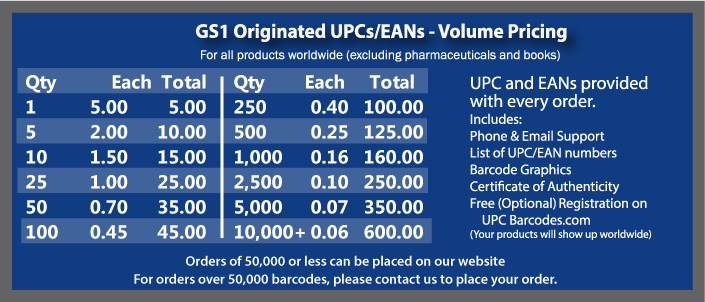 Ready to buy?

Need more information? Watch our informative video about EAN and UPC barcodes. Contact Us