A  barcode solution for retailers including Costco, Whole Foods, Best Buy, Lowes, Toys R Us and Home Depot  and for internet-based webtailers including Amazon, Google Merchant and Overstock.com, We provide a 100% guaranteed solution for all of your barcode needs….plus after-the-sale support.
No Renewal Fees – no hidden charges. We provide a barcode solution that helps you get your products in stores or on-line fast.
Plus, Free Registration of your products in the official UPCBarcodes database allowing your products to show up in many of the smart phone scanner apps, Google and Bing allowing for more selling opportunities.
Choosing the right barcode partner is critical.
George Laurer, the inventor of the UPC barcode says, "To be considered for distribution by most large retail channels, the UPC / EAN-13 number must be legitimate. Get caught using a fake or simply copied UPC / EAN-13 code and your credibility with the retailer is finished."

When you purchase, you will receive both EAN and UPC barcode numbers and graphics, certificate of authenticity, ownership documents, and an Excel list of numbers so you can do business right away, all by immediate digital download.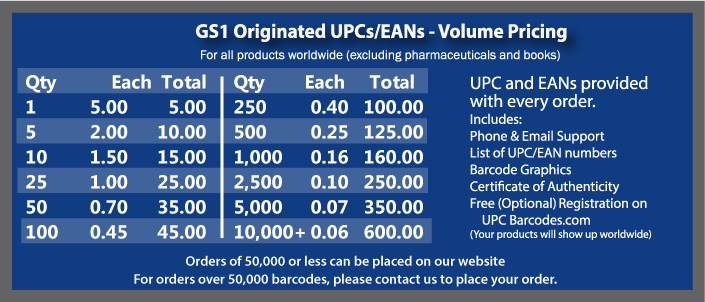 Barcodes are good for all products except Books (require ISBN) and Pharmaceuticals.
Unique EAN and UPC Barcode Numbers always – never reused or recycled.  (UPC are used in US/Canada and can be read worldwide — EAN are used in Europe, Australia, Asia, South America)
Lightning Fast Digital Delivery. Barcodes within Minutes.
No Annual Fees, No Hidden Charges – barcodes never expire.
Free phone or email support – Access to our 'after the sale videos' and our 4-minute mentor video series.
Excel spreadsheet with all of your barcode numbers
EAN-13 and UPC-A graphics - EPS (scalable vector) and Print Resolution JPG. Barcodes provided at 1.5″ x 1.0″ and can be scaled +/-20%.
Certificate of Authenticity/Transfer of Ownership
Resources for sticker or label printing
FREE eBook: Barcodes Demystified - Info on Shipping Container Barcodes, Coupon Codes, Barcode Colors and Sizes. How to communicate with your retailers, etc
Additional after the sale solutions including shipping container barcodes, QR Codes and free webinars.
Support and Resource Guide
To simplify the next steps, we provide a very valuable support and resource guide that covers every aspect of barcodes including how to use and print them.